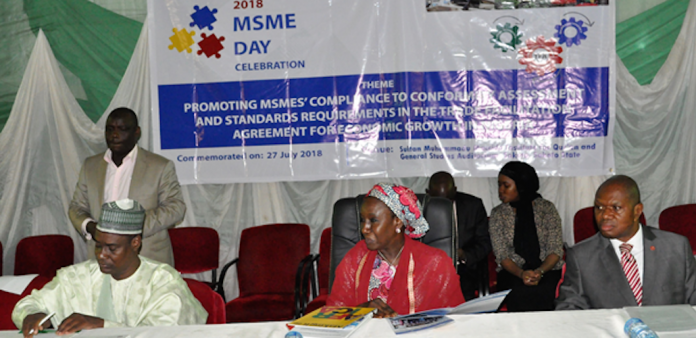 The Governor of Sokoto State, Aminu Waziri Tambuwal, has said that the state government would partner the United Nations Industrial Development Organization (UNIDO) to establish a Entrepreneurship Development Centre (EDC) in the state.
The Governor disclosed this at the first edition of the Micro Small and Medium Enterprises (MSMEs) Day Commemoration in Nigeria, held Sokoto, on Friday.
This year's MSMEs Day commemoration, organized by UNIDO in collaboration with the Federal Ministry of Industry, Trade and Investment, was themed, " Promoting MSMEs' Compliance to Conformity Assessment and Standards Requirements in the Trade Facilitation Agreement for Economic Growth in Nigeria."
Tambuwal noted that the proposed EDC, which would be established in partnership with UNIDO, would provide entrepreneurial skills training for existing and potential entrepreneurs in the state in order to assist them to organize and manage their businesses in the most effective, efficient and profitable way.
Governor Tambuwal, who was represented by the Permanent Secretary , Sokoto State Ministry of Commerce , Industry and Tourism, Alhaji Bande Mohammed Rikina, said, "As part of efforts to address the major challenges hindering the sustainable growth and development of Micro Small and Medium Enterprises in Sokoto State, the State Government, through the Sokoto State Small and Medium Enterprises Development and Microfinance Agency (SOSMEDA), is collaborating with UNIDO to implement the Learning Initiative for Entrepreneurs (LIFE) Project in Sokoto State.
"UNIDO has already trained a Master Trainer and 10 other Trainers who will be involved in the provision of Business Development Support Services to entrepreneurs across the state. The partnership with UNIDO will lead to the establishment of an Entrepreneurship Development Centre which will offer entrepreneurial skills development training to entrepreneurs to enable them effectively manage their businesses."
Speaking during her keynote address, the Minister of State, Federal Ministry of Industry, Trade and Investment, Hajiya Aisha Abubakar, said the Federal Government is committed to working with all stakeholders to address the challenges militating against the growth and development of MSMEs in Nigeria.
The minister said, "The Federal Government recognises the important role MSMEs play as the major driver of industrialization, job creation, and poverty reduction. It is in this regards that the government is collaboratively working with the organized private sector and development partners, including UNIDO to collectively address MSMEs challenges in order to meet the Trade Facilitation Agreement requirements for MSMEs. On behalf of the Federal Government of Nigeria, I want to specially thank UNIDO supporting MSMEs and industrial development in Nigeria."
In his welcome address, the UNIDO Representative to ECOWAS and Regional Director, Nigeria Regional Office Hub, Jean Bakole, said that the commemoration of MSMEs Day was in recognition the pivotal role which MSMEs play in global economic development, and assured that UNIDO would continue to partner with the Federal and State Governments, Organized Private Sector , Donor Agencies, financial institutions and other stakeholders to support the development of MSMEs in Nigeria.
Bakole said, "On behalf of UNIDO and the entire United Nations System In Nigeria, I want to thank the Federal Ministry of Industry, Trade and Investment, the Sokoto state Government and the Organized Private Sector across Nigeria for actively participating in this first edition of MSMEs Day in Sokoto. The MSME Day celebration was birthed on 6th April, 2017, when the United Nations General Assembly designated 27 June every year for the commemoration of MSMEs across the world. This was done in recognition of the pivotal role MSMEs play in global economic development, with particular reference to the implementation of the 2030 Development Agenda for Sustainable Development and the Addis Ababa Action Agenda .These global agenda and strategies call for renewed efforts to promote development-oriented policies that support productive activities, decent job/wealth creation, entrepreneurship , creativity and innovation and to encourage the formalization and growth of MSMEs through access to financial services and skills upgrade"
Bakole added, "Under the ownership/leadership of the Government of Nigeria, UNIDO will very soon launch the new UNIDO Nigeria Country Programme 2018-2022 , which will place MSMEs development at the centre of our main activities .This will support UNIDO's on-going efforts towards public and private partnership consolidation in the country."