The head of the OPEC oil cartel said Saturday there was no "single solution" to the energy transition as pressure grows to agree a...
The naira fell to an all-time low of N1,099.05/$ the official Investor and Exporter forex window on Friday to cap what has been a...
FIFA on Saturday confirmed that three bids to host the Women's World Cup in 2027 had been lodged "across three confederations" before the bidding...
Manchester United's shambolic season took another turn for the worse in a 3-0 home defeat to Bournemouth in the Premier League on Saturday. Bournemouth's fine...
Lufthansa German Airline has suspended flights to Port Harcourt International Airport till further notice. The suspension order our correspondent gathered is expected to commence today...
A seeming boardroom crisis that may rock troubled Heritage Bank to its foundation is currently brewing in the bank, THE WITNESS exclusively reports. Competent sources...
Despite its outward display of a robust financial base, Unity Bank, one of Nigeria's surviving banks is financially sick and needs urgent rescue by...
In a bid to continue to cover up the financial malfeasance in Nigeria Incentive-Based Risks System for Agricultural Lending (NIRSAL), the Managing Director of...
Russian leader Vladimir Putin has decided to run in presidential elections next March, news agencies reported Friday, allowing the Kremlin leader to extend his...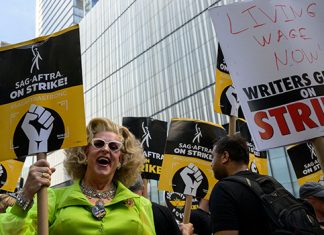 Hollywood actors overwhelmingly ratified a new, hard-fought deal with studios on Tuesday that paves the way for a rebound of an entertainment industry that...
By Aisha Gambo, News Agency Nigeria (NAN) On May 29 during the inauguration of his administration, President Bola Tinubu took a bold step that his...
ADDRESS BY HIS EXCELLENCY, PRESIDENT BOLA AHMED TINUBU, GCFR, PRESIDENT AND COMMANDER-IN-CHIEF, FEDERAL REPUBLIC OF NIGERIA IN COMMEMORATION OF THE 63RD INDEPENDENCE ANNIVERSARY OF...