The Debt Management Office (DMO) says revenue generation is a major constraint of the Federal Government, and impacts the country's debt situation negatively. Patience Oniha,...
The Naira on Friday gained marginally against the dollar at the Investors and Exporters Window, exchanging at N425.00. The figure represented an appreciation of 0.01...
Super Falcons defender, Glory Ogbonna, said the team had been given all the needed motivations to win for a record 10th Women Africa Cup...
FIFA says it will use semi-automatic offside technology at the November to December World Cup to make video assistant decisions faster and more reliable. Football's...
Despite its outward display of a robust financial base, Unity Bank, one of Nigeria's surviving banks is financially sick and needs urgent rescue by...
In a bid to continue to cover up the financial malfeasance in Nigeria Incentive-Based Risks System for Agricultural Lending (NIRSAL), the Managing Director of...
Underground calls are coming from political circles and inside the Presidency for the Federal Government to thorough probe the over N50 billion shared to...
Horatius Egua Abuja, Nigeria: Minister of Mines and Steel Development Arch Olamelekan Adegbite has dismissed claims that Zamfara State has been granted license to mine...
U.S. Vice-President Kamala Harris created new uncertainty on Wednesday about President Joe Biden's intentions to run for re-election in 2024, pulling back from a...
Rap artiste, Abdulrasheed Bello, popularly known as "JJC Skillz", has announced separation from his actress wife, Funke Akindele-Bello, after seven years of marriage. JJC Skillz...
By Abiemwense Moru, News Agency of Nigeria (NAN) Nigeria Health Watch with support from MSD for Mothers organised a stakeholders meeting in Abuja on Evidence...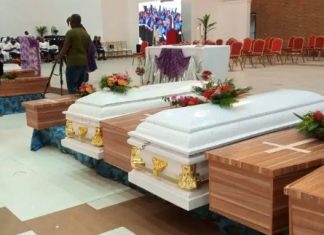 Homily of Bishop Emmanuel Adetoyese Badejo, Catholic diocese of Oyo at the Funeral Mass held on June 17, 2022for Multiple Victims of the St....