Oil prices rose on Thursday as robust U.S. fuel consumption data and expected falls in Russian supply, later in the year, offset concerns that...
Emirates Airlines says it plans to suspend all flights to and from Nigeria on Sept. 1, to limit further losses following its inability to...
For connoisseurs of football managers' handshakes, this was the reward for those hours of dedication. For everyone else it was the inevitable conclusion to...
Manchester United are in crisis. There can be little doubt. Beyond the bare statistics of becoming the first United manager to lose their first...
Despite its outward display of a robust financial base, Unity Bank, one of Nigeria's surviving banks is financially sick and needs urgent rescue by...
In a bid to continue to cover up the financial malfeasance in Nigeria Incentive-Based Risks System for Agricultural Lending (NIRSAL), the Managing Director of...
Underground calls are coming from political circles and inside the Presidency for the Federal Government to thorough probe the over N50 billion shared to...
Horatius Egua Abuja, Nigeria: Minister of Mines and Steel Development Arch Olamelekan Adegbite has dismissed claims that Zamfara State has been granted license to mine...
The German Army, on Thursday dispatched a civilian airplane from Cologne to rotate troops in Mali, after authorities in the West African state finally granted...
Chizzy, Daniella, Kess, Modella, Pharmsavi, Amaka and Groovy are the housemates up for possible eviction in the ongoing Big Brother Naija, "Level Up" edition. The...
By Chijioke Okoronkwo, News Agency of Nigeria (NAN) No doubt, the issue of curbing medical tourism has featured prominently in national discourse over the years. Estimates...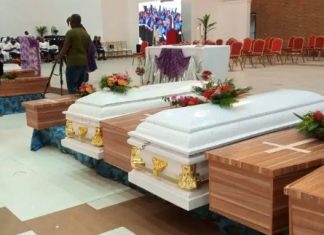 Homily of Bishop Emmanuel Adetoyese Badejo, Catholic diocese of Oyo at the Funeral Mass held on June 17, 2022for Multiple Victims of the St....