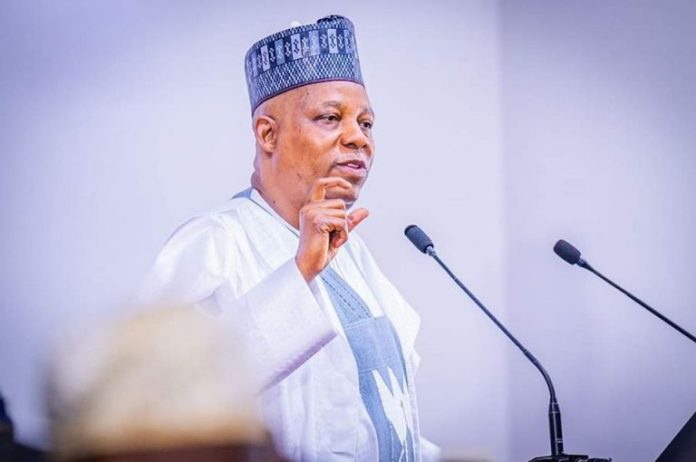 Vice-President Kashim Shettima says he is optimistic that Nigeria will overcome its challenges with the intellectual capabilities of its citizens and the leadership style of President Bola Tinubu.
Mr Stanley Nkwocha, Senior Special Assistant to the President on Media and Communications, Office of the Vice-President, in a statement, said Shettima, stated this at a reception in Ibadan, Oyo State.
The reception was organised in honour of the vice-president by the University of Ibadan Muslim Graduates' Association (UIMGA).
Shettima, who underscored the importance of domestic solutions, urged Nigerians to harness their collective knowledge and expertise to build a resilient economy and address global challenges such as climate change.
He said, " I wish to share with you that even as Nigeria strives to overcome the consequences of geopolitical events around us and the domestic threats to our lives and the economy.
" We are comforted by your intellectual capabilities to understand the necessity of the decisions we have taken to salvage Nigeria.
" Our government stands resolute in confronting these obstacles, and in our belief in working together to build the Nigeria of our dream."
Represented by Jamiu Abiola, Special Assistant to the President on Special Duty, Office of the Vice-President, Shettima paid tribute to the university for shaping his worldview.
According to him, the university of Ibadan instilled in him the values of public service.
The vice-president emphasized the importance of education and collaboration in propelling the nation towards a brighter future.
Shettima said, " My time at this premier institution not only reinforced my belief in the equalizing power of education, but here, I also learned the wisdom of viewing each other as brothers and sisters in word and action."
He commended UIMGA for its remarkable contributions and initiatives to societal peace and progress.
Shettima also highlighted their initiatives in providing scholarships, conducting workshops, organizing awareness campaigns, and hosting public lectures on critical developmental issues.
He said, " To achieve the society we desire, we must build a synergy between the gown and the town, between the public and the private, and between the student and the practicing specialists."
The News Agency of Nigeria (NAN) reports that Shettima obtained a Master's degree (MSc) in Agricultural Economics in 1991 at the University of Ibadan.
The UIMGA's reception served as a platform for dialogue, inspiration, and renewed dedication to the nation's development. (NAN)