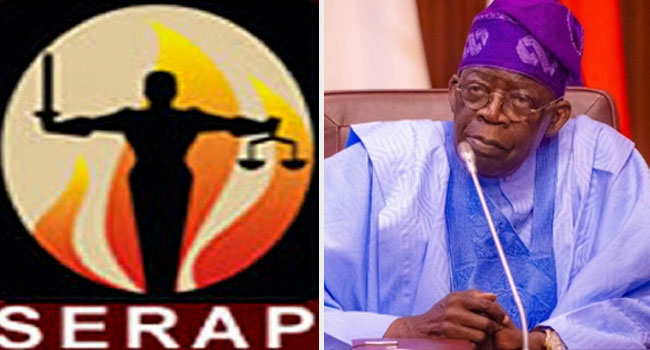 President Bola Tinubu has been dragged to court over the appointment of Resident Electoral Commissioners for the Independent National Electoral Commission (INEC) by some concerned groups.
The various groups under the aegis of the Socio-Economic Rights and Accountability Project (SERAP), BudgIT and 34 concerned Nigerians filed the lawsuit against President Tinubu at the Federal High Court in Lagos on Friday.
This was disclosed in a statement by SERAP's deputy director, Kolawole Oluwadare on Sunday.
READ ALSO: Senate Confirms Seven Of 10 INEC RECs Appointed By Tinubu
On October 25, the President approved the appointment of 10 new RECs for the electoral body for a term of five years each. A week later, the nominees were screened by the Nigerian Senate despite the outcry that some of the appointees were partisan.
Those confirmed are Etekamba Umoren (Akwa Ibom) Isah Shaka Ehimeakne (Edo) Oluwatoyin Babalola (Ekiti) Abubakar Ahmed Ma'aji (Gombe), Shehu Wahab (Kwara), Mohammed Yelwa (Niger) and Aminu Idris (Nasarawa).
However, there were reports that three of the nominees – Umoren, Shaka and Omoseyindemi – were said to be loyalists of the ruling All Progressives Congress (APC).
In the suit number FHC/L/CS/2353/2023, the Plaintiffs are seeking: "an order setting aside the nomination, confirmation and appointment of the alleged APC members as RECs for INEC, for being unconstitutional, unlawful, null, void and of no effect."
"The status, powers, independence of INEC, and the impartiality with which it acts and is seen to be allowed to act are fundamental to the integrity of Nigeria's elections and effectiveness of citizens' democratic rights," the plaintiffs argued.
"INEC ought to be the primary guarantor of the integrity and purity of the electoral process. President Tinubu and the Senate have the constitutional responsibilities to ensure both the appearance and the actual independence and impartiality in the nomination and confirmation of INEC top officials.
"The credibility and legitimacy of elections depend mostly on the independence and impartiality of those appointed to manage the process. Without an independent and impartial INEC, the democratic rights of Nigerians would remain illusory."
The suit filed on behalf of the Plaintiffs by their lawyers, Kolawole Oluwadare and Andrew Nwankwo, read in part: "As public officers, President Tinubu and Mr Godswill Akpabio are required to act in conformity with their oath of office and the letter and spirit of the Nigerian Constitution 1999 [as amended]."
"Treating INEC as a line department accountable to bureaucratic higher-ups and high-ranking politicians rather than as an independent and impartial body is antithetical to constitutional and international standards and the notion of the rule of law.
"The use of the word 'non-partisan' means that those to be appointed to conduct credible elections must not be people who openly identify as belonging to a political party, whose occupation is politics or who are perceived by ordinary Nigerians as having political biases."
No date has been fixed for the hearing of the suit.
CHANNELS TV