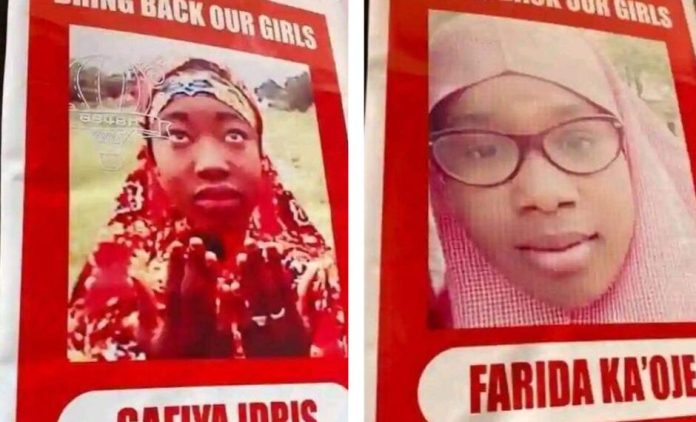 Premium Times Nigeria
BUA Group Ad
Two school girls, Farida Kaoje and Safiya Idris, released from Dogo Gide's captivity.
Two school girls, Farida Kaoje and Safiya Idris, released from Dogo Gide's captivity.
Dogo Gide, the notorious banditry kingpin, on Wednesday night has released the last two of the 11 students of the Federal Government College Yauri, in Birnin-Yauri, Kebbi State, who were kidnapped in 2021.
The two girls who were freed are Farida Kaoje and Safiya Idris.
Confirming the release of the pupils to PREMIUM TIMES, Sani Kaoje, Farida's father said the two pupils were released after a ransom of N45 million was paid to the outlaw.
"We sold most of our properties to pay the N80 million naira Dogo asked us to pay but he refused to release all the students. Some of the naira notes given to him were damaged, so he sent them back and we took it to the government. He also asked us for forty million naira but since we don't have the money, we ran to the government and solicited from other well meaning people to help us get the money," Mr Kaoje, a retired civil servant said.
Mr Kaoje said the money was taken to Mr Gide on Wednesday by a negotiator, Abubakar and two parents of the abductees.
He said the released pupils were on their way to Birnin Kebbi, the state capital after which they will be taken to a hospital for medical checkups.
Back story
Mr Gide and his gang originally abducted more than 100 pupils and some of their teachers in 2021.
While many of the girls escaped in the days that followed the abduction, others were released after ransoms were allegedly paid to Mr Gide's gang and allegedly in exchange for some of Mr Gide's fighters who were arrested by the authorities.
However, the terrorists held on to 11 of the girls.
Mr Gide released four of the abductees in April after payment of N80 million by the parents. He also released three and two more pupils separately in May.
Premium Times