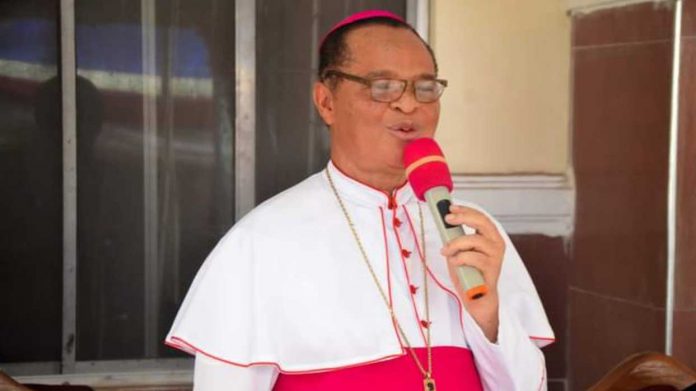 Most Rev. Lucius Ugorji, President, Catholic Bishops Conference of Nigeria (CBCN), has called on the Independent National Electoral Commission (INEC) to improve on the conduct of March 18 governorship and state assembly elections.
Ugorji, who doubles as the Archbishop of Owerri Catholic Archdiocese, also appealed to security agencies to ensure adequate security during Saturday's elections.
The CBCN president spoke at the installation and Canonical Erection of Bishop Dennis Isiuzor as the Catholic Bishop of newly created Aguleri Catholic Diocese in Anambra East Local Government Area of Anambra on Friday.
Ugorji said that the Commission's failure to upload the results timeously, created tension and affected the credibility of Feb. 25 Presidential and National Assembly elections.
"I urge INEC to upload the results from the polling units to the portal in real time to reduce the experience of last Presidential and national assembly elections," he said.
Ugorji urged Nigerians to come out as they did before to cast their votes and make sure their votes counted during the Governorship and State Assembly elections.
Speaking during the Homily, Archbishop Guido Filipazzi, the Apostolic Nuncio to Nigeria said the new Diocese was significant as it was seated in one of the Parishes Blessed Michael Iwene Tansi worked as a Priest.
He said Aguleri which also doubles as Tansi's home town had become a Diocese in the Catholic Church.
"The personality of Tansi has to do with spreading the gospel of Jesus Christ as a priest to a monk which reflected life of prayers," he said.
Filipazzi advised Catholics especially those from the new Diocese to emulate the holy life of Tansi in their journey of faith.
"Ensure that your spiritual life is the driving force of your activities in spite of the challenges of life," he said.
The new Bishop of Aguleri Diocese, Most Rev. Dennis Isiuzor thanked Pope Francis for appointing him the pioneer bishop of Aguleri Diocese.
He said though Aguleri was now independent, it would continue to kneel on Onitsha Catholic Archdiocese until it became stronger.
Gov Charles Soludo of Anambra who attended the occasion in his remark noted that the day was remarkable as it coincidenced with one year in office as Anambra governor.
"Today is unique in the sense that it marks my one year in office and it would go into history that during my one year in office Anambra had a new Diocese as well as a new Cardinal", he said
"We have been able to make great in road into the infrastructural development of Anambra state and we are still doing more in the area of restoring confidence in governance", he said.(NAN)