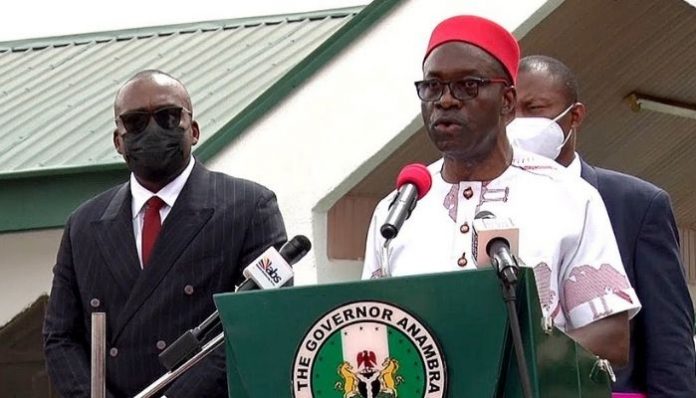 By Chimezie Anaso, News Agency of Nigeria (NAN)
During his inauguration as the fifth democratically-elected Governor of Anambra
State, on March 17, 2022, Prof. Charles Soludo made some promises toward developing the state.
One of the promises is that many unproductive systems will give way.
"As a new social order and everything-technology philosophy take life, many unproductive systems will give way.
"There will be new and better ways of managing our parks and markets, different and better ways of collecting government revenues, managing waste and general service delivery to citizens,'' he had said.
Few months into his administration, the promise is becoming a reality.
Shortly after his election, Soludo had warned against granting new revenue windows and renewing existing ones.
The professor of economics and former Governor of the Central Bank of Nigeria demanded that all revenue agreements would terminate upon his assumption of office.
Soludo consequently suspended all kinds of toll and levy collections in the state pending creation of a new Internally Generated Revenue (IGR) collection model by his administration.
He described his proposed reforms as a 'disruptive change', and appealed to Anambra people to cooperate and tolerate inconveniences that might be associated with the change which, he said, would be for the general good of the residents.
According to Soludo, federal allocations can no longer fund the development demands of Anambra.
He said that IGR would be the major driver of state's finances, adding that his administration would maximise its collection, block leakages, expand tax base and tackle evasion.
Analysts are of the view that revenue collection in the state had been uncoordinated and managed largely by revenue contractors who engaged `touts' in the collection and remitted pittance to the government.
In fulfillment of his promise, Solodo's administration has begun reforms in the road transport sub-sector of the economy with the introduction of biometric enumeration and registration of operators of commercial vehicles.
The Anambra State Internal Revenue Service (AIRS), in collaboration with the Anambra State Ministry of Transport, has captured various categories of transporters including wheelbarrows pushers, tricycle riders, shuttle and mini bus operators, and mini/semi-trucks, tippers, lorries and heavy duty truck operators.
Traders were also mandated to enroll and obtain a permit to operate, e-receipts and a code with which they could make subsequent remittances.
The government is convinced that the measures will engender transparency and reduce the activities of illegal revenue collectors and touting.
According to AIRS, by August 2022, any trader operating without a permit will have his or her shop sealed and be made to pay double of the yearly subscription as penalties.
For those in the transport sector, operating a vehicle without permit will result in seizure of the vehicle and payment of double of the monthly subscription.
The Chairman of AIRS, Mr Anthony Madiebo, notes that, under the new IGR regime in Anambra, tricycle operators will pay N15,000 monthly, N42,000 quarterly or N81,000 biannually, at the rate of N600 daily.
Madiebo also notes that shuttle bus and pick-up van operators will pay N25,000 monthly, N70,000 quarterly or N135, 000 biannually, at a daily rate of N1,000.
Taxi operators will pay N17,500 monthly, N49,000 quarterly and N94, 500 every six months at a daily rate of N700, while township bus operators are to pay N30,000 monthly, N84,000 quarterly and N162, 000 for six months.
According to the AIRS chairman, the rates were agreed by the government and other stakeholders after consultations.
He gives the assurance that commercial transporters will not pay any other levy to anybody after paying the stipulated levy.
Dissatisfaied with the policy, two categories of transporters – tricyclists and shuttle bus drivers – have staged protests against it, describing it as outrageous and rigid.
The transporters blocked the Unizik Junction of the Enugu-Onitsha Expressway for two days, causing gridlocks. They are convinced it is more convenient for them to pay the levy on a daily basis.
A tricycle rider, Mr Jude Okoro, points out that tricycle riders' incomes are not fixed but depend on whether they work or not.
"Our income is daily, our levy should be daily; it is not correct to expect that we operate everyday. What of if somebody is sick, has an accident, travels or gets arrested?
"After days of absence, will the person pay for the days he did not make income?
"Again, how are we sure that touts will not collect money from us as they have been doing?'' he asked.
The state Commissioner for Transport, Mrs Patricia Igwebuike, insists that the levies are imposed in the best interest of the operators.
Igwebuike argues the levies are lower that the cumulative payments the operators make to touts.
According to her, unions coordinating commercial transport in the state were considered and will get the percentage agreed between them and the government after collection of the levy by the government.
"For instance, tricycle operators said that they paid as much as N2,000 to touts everyday, but we have told them to pay N600 per day and N15,000 per month.
"If they pay that money to the government, it covers them for the whole month; they will not pay any other money to anybody for anything. Their union will get its percentage for running of its secretariat," she explains.
A human rights activist and public affairs commentator, Mr Osita Obi, describes the new policy as fair.
He says that commercial transport operators especially tricycle operators had been heavily shortchanged by touts.
Obi believes that the policy will make the operators to get value for their payments as well as bring sanity to transport.
"What the government is doing is best for the transporters and the people of Anambra, the rates are very fair compared to what these touts collect from them.
"They pay about N40,000 to their unions to start operation, they pay not less than N2,000 daily.
"We expect that the government will ensure nobody collects money from them after paying their monthly levy.
"The concern about paying for days they don't work is correct; the government should take care of that but let the system start," he urges.
An economist and businessman, Mr Chukwudi Ibekwe, however, describes the tax policy as regressive.
He says it will mean using the sweat of the poor to fund the rich.
Ibekwe believes that commercial transporters are being exploited by some people and groups, urging that they need government's protection.
According to him, transporters should not be taxed based on their assumed total income.
"Government should consider the cost of their businesses. They buy fuel, carry out repairs and remit money to vehicle owners; so what is their net earning which should be the taxable income?
"Some of them are into the business as a poverty alleviation measure. It is expected that when they raise capital, they go into other trades.
"You don't have to suffocate them with tax. The same goes for other businesses.
"While you are taking your tax as a government, you should leave room for them to survive and grow. The current economic situation is enough threat to businesses; a stringent tax regime will kill them," he cautions.
Ibekwe, however, believes that there is the need for states to switch to an IGR-driven economy to be able to pay their workforces and still provide infrastructure.
He advises that taxation should be fair, transparent and understandable to the payers for effective collection.
The rights campaigner urges the state government to enlighten the residents about the tax policy and make some adjustments that will suit the payers.