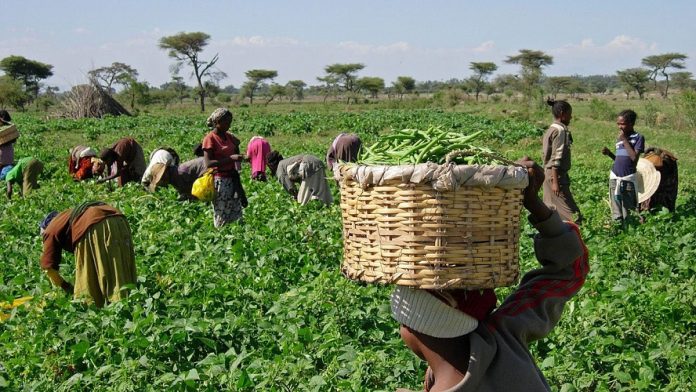 The delegation of African Union Development Agency/New Partnership for Africa's Development (AUDA/NEPAD) converged on Nigeria on Monday, to boost the nation's agric sector  through the empowerment of smallholder farmers in Nigeria.
The programme tagged, "Initiative to strengthen smallholder farmers capabilities amid COVID-19 pandemic", attracted delegation from other member  countries of Africa Union, to deliberate on ways to mitigate the effects of COVID-19 pandemic in the country.
Mr Zacchaeus Maxwell, Director Programmes Development/Implementation (NEPAD-Nigeria), in his remark, said the programme was initiated by AUDA/NEPAD, to mitigate the debilitating effect of COVID-19 pandemic in Nigeria.
"The programme is innovative to strengthen of smallholder farmers capabilities towards productive land restoration amid COVID-19 in Nigeria.
"The COVID-19 came with devastating effects which had impacts on socio-economic life of not only Nigeria, but the entire world.
"In order to mitigate the effects of COVID-19 pandemic, instead of just be mourning the effects, AUDA/NEPAD as a development agency of the AU has decided to do something to cushion the effects of the pandemic.
"Which was why they initiated this innovative programme to mitigate the debilitating effects of COVID-19.
The project, according to him, seeks to build the capacity of smallholder farmers in order to be able to produce more to feed the populace.
" So far, 22 states will be participating in the pilot phase of the project and even if we are taking 1000 per state, you know what that's means already, that will be over 22, 000 already,"he said.
Also, Mr Mamadou Diakhite, Acting Head, Environmental Sustainability Division AUDA/NEPAD, said their mission was aimed at food security in Africa, and Nigeria in particular.
Mamadou added that achieving the aim, the initiative would focus on the restoration  of degraded land in Nigeria and Africa at large.
"The land restoration movement we are creating now in Africa and today in Nigeria, is very consensual, very social seeking approach that we should be able to use our lands,  forest resources, water systems  in a very consensual manner.
"And, the only way we can do is through dialogue with other African countries for development to secure food and to make Africa the food basket of the world.
"And that is why as an AU organ, African Union Development Agency, encouraged all the time, dialogue to find solutions of all bad of the society, " he said.
In his contribution, Mr Mamadou Cisokh, President of West African Farmers Union, used the occasion to task Nigerians to be a leading nation in Africa on agriculture development. (NAN)