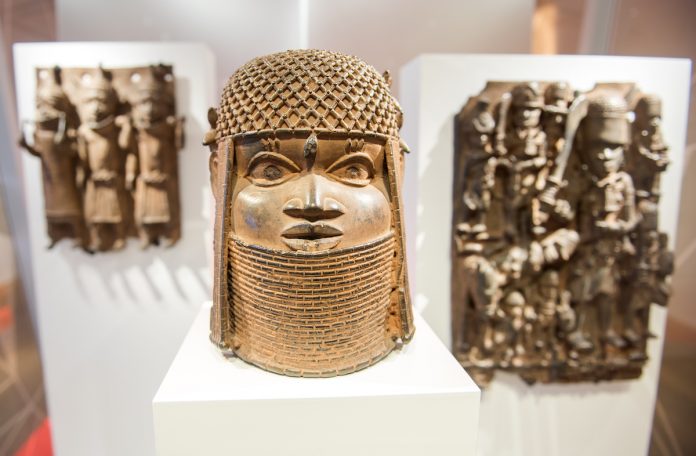 A German researcher, Mr Yan LeGall of the Institute of Art History Technical , University of Berlin, has said that Museum directors in Germany were committed to repatriating looted Benin Bronze to Nigeria in 2022.
The researcher stated this at the sixth webinar session of the Africa workshop organised by Taz Foundation Berlin on Wednesday , on the topic titled ' Looted cultural assets '.
He said that some Directors of Museums in Germany such as Harmburg, amongst others , were set to facilitate the restitution of the Benin artefacts .
In his presentation entitled: 'Players and stakeholders', LeGall said there were international partnerships between the African continent and Europe, such as the Benin Dialogue group, who are advocating the restitution of looted African objects.
"There is a project called 'Digital Benin', that tries to publish the inventory of all the Benin collections that are scattered in the world ," he said.
He further explained that there was an estimated 300,000 African collections in nine of Germany's federal and state museums with Berlin having the highest with 75,000 collections, adding that the figures were not exhaustive as there were other museums in the states and their universities.
He said museums in Germany needed to have discussions with their African partners before any action or exhibition could be staged on any of their objects in their possessions , saying " We need African partners to help decipher what is written on their artefacts. "
Also co-presenting the paper, Ms Yagmur Karakis, of the Provenance Research at Rautenstrauch -Joest Museum, said that debates of restitution of African objects was resuscitated by government authorities, activists and researchers, adding that the gesture had led to an agreement to repatriate such objects to their original owners.
The News Agency of Nigeria (NAN) reports that the 12 series' Africa workshop, meant for African journalists under the theme: 'Access, connecting in times of pandemic' is running from April 2021 to Feb. 2022.
Participants were drawn from Algeria, Cameroon, Egypt, Ethiopia, Ghana, Kenya, Mali, Nigeria, Rwanda, Somalia, South Africa and Sudan. (NAN)