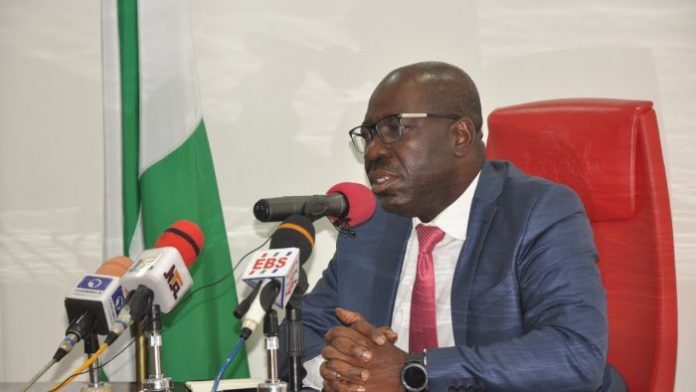 …..A Hefty Bag of Questions
By Ovenseri Ayobahan
Who is Godwin Noghesghe Obaseki? Someone will say he is the current Governor of Edo State,  and another can say he is the embattled prime official at Osadebey Avenue and they will both be right. However, going beyond current official designation, is Obaseki, the people's Governor, truly known to the people?
Everything has a known history. The planet earth, Africa, Edo State, Apple, Samsung, and even the African Dwarf Goat. Every single specie, city, product, have their record publicly and clearly known. How much more a human being who has climbed to the pinnacle of his State politics?
So, again, we ask: who is Godwin Obaseki? Who are his parents? Where are they? How can a Governor, one renowned for having a wealth of burnished media presence, not have his wife the first lady properly known? For a man who investigations have found the death of his father mired in complexities, what was the role of Godwin in the plot and what has he done to, as a son that has achieved a lot, honor the memory of his father?
Or is it that the Governor is not a human being whose ways is not like the ways of normal mortal men? In the traditional African setting, a man does not belong to himself alone and he is never raised by the family alone. So where are Obaseki's extended and nuclear family members? And yes, let's face it, is this man really from Edo State if he invests so much resources in concealing his history—it is particularly worrying because he comes against a background of people who take so much pride in their root, origin, heritage.
He is married, or so he claims—then where are his in-laws? Where is the Governor's family house in Edo State? Why, exactly, is this man not really known to Edo people. Recently, we have seen the extent, length and severity of the dishonest inconsistencies in this man's life in the outrageous example of his greatly unclear academic records. And then it flows from there to where next it should go: his career.
Only known to be a successful businessman who owns Afrinvest, what is the history of the company? Who are his staff members and what are their testimonies—good or bad—of this their Chief Executive Officer? Even men who have spent so much in hiding their true identity get found out and glimmers of details about them emerge from the cracks and crevices of their well-welded tanks of secrets. But here is a man who has successfully, for years, hidden who he is despite being in the public eye.
Who is Godwin Obaseki? Can this unknown man, like all faceless men, be truly trusted?