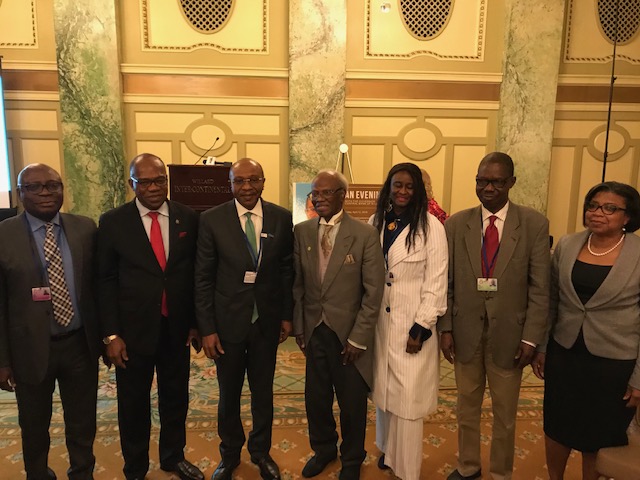 By Adesina Wahab
Central Bank Governors under the aegis of the International Monetary and Financial Committee (IMFC) have given recipe for a stable exchange rate that can serve as shock absorber and contribute to strong and sustainable growth and investment.
In a communiqué at the end of their 39th in Washington DC, United States, they said strong fundamentals, sound policies, and a resilient international monetary system were essential to the stability of exchange rates.
The meeting was chaired by Mr. Lesetja Kganyago, Governor of the South African Reserve Bank.
The bank chiefs also noted that though global expansion continues, but that it was at a slower pace than anticipated last October, adding that it could firm up next year, but risks remained tilted to the downside.
"These include trade tensions, policy uncertainty, geopolitical risks, and a sudden sharp tightening of financial conditions against a backdrop of limited policy space, historically high debt levels, and heightened financial vulnerabilities. Other longstanding challenges also persist.
"To protect the expansion, we will continue to mitigate risks, enhance resilience, and, if necessary, act promptly to shore up growth for the benefit of all. Fiscal policy should rebuild buffers where needed, be flexible and growth-friendly, and strike the right chord between ensuring debt sustainability, supporting demand while avoiding procyclicality, and safeguarding social objectives.
"In line with central banks' mandates, monetary policy should ensure that inflation remains on track toward, or stabilizes around targets, and that inflation expectations remain anchored. Central bank decisions need to remain well communicated and data dependent. We will monitor and, as necessary, tackle financial vulnerabilities and emerging risks to financial stability, including with macroprudential tools," the communiqué read.
To advance financial and structural reforms critical to boosting growth and emolument, they stressed the need for timely, full and consistent implementation and finalisation of the financial sector reform agenda as soon as possible.
"We commit to strong governance, including by tackling corruption. We will implement policies that foster innovation and fair market competition. We will strive to address challenges from demographic shifts, ensure that gains from technological change and economic integration are widely shared, and effectively assist those bearing the cost of adjustment," they added.
On the operations of the International Monetary Fund (IMF), they expressed support for the IMF's efforts to provide tailored policy advice and, when needed, financial support for balance of payments needs.
"We look forward to discussing the IMF's work on a more integrated policy framework that further considers the interactions between monetary, exchange rate, macroprudential, and capital flow management policies. We welcome the enhanced engagement on governance, including corruption, in line with the new governance framework; work on central bank governance; and continued work on infrastructure governance and structural reforms, including market competition issues.
"We support the continued implementation of the IMF-World Bank multi-pronged approach to work with borrowers and creditors to improve the recording, monitoring, and transparent reporting of public and private debt obligations. We ask the IMF to continue to work with members to strengthen fiscal frameworks, improve debt management capacity, and implement the updated debt sustainability framework for low-income countries. We look forward to reviews of the debt sustainability framework for market access countries and the IMF's debt limits policy.
"We look forward to the IMF proposing a strategy to more systematically engage on social spending issues. We welcome the macroeconomic analyses of gender and inequality issues. We appreciate further efforts to strengthen the effectiveness of engagement with fragile and conflict-affected states, and provide analysis and advice for developing countries to achieve the SDGs. We call on the IMF to help members improve domestic resource mobilization, including through collaboration with other partners of the Platform for Collaboration on Tax and by applying the experience with medium-term revenue strategies and tailoring efforts to support domestic resource mobilization in countries with limited capacities. We welcome the IMF's continued support for the G20 Compact with Africa initiative to improve investment frameworks."
The IMFC also expressed sympathy to the victims of the natural disaster that occurred in some African countries recently.