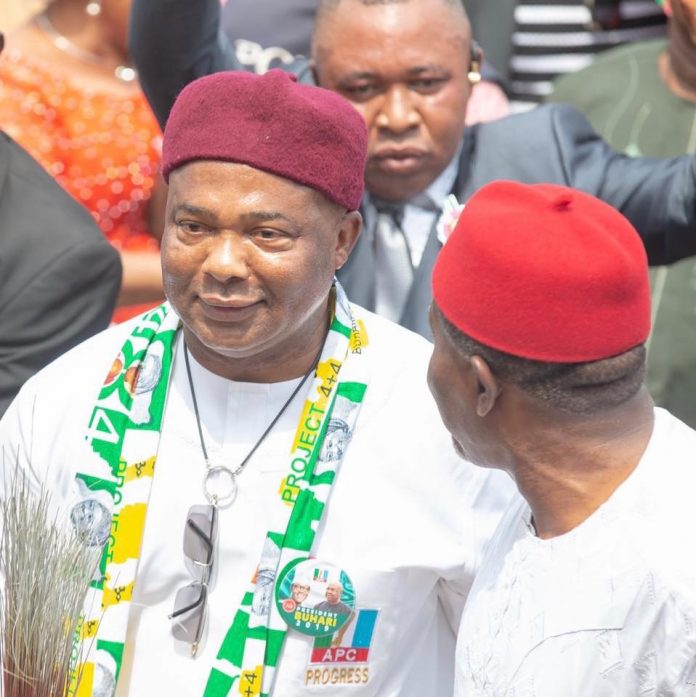 Two weeks after the Independent National Electoral Commission (INEC) declared Emeka Ihedioha as the governor-elect in Imo State, a group has advocated a strong challenge to the declaration insisting that the ruling All Progressive Congress (APC) was robbed of victory in the state.
Specifically, the group, Imo Democratic Congress (IDC), said APC won the governorship election in booths and polling units, but that the results were manipulated to favour other parties by those who want to deny APC of victory in the only state it has a foot hold in the South East.
At a news conference in Owerri, yesterday, the IDC claimed it has a documentary evidence to back up its assertion that some highly placed individuals and institutions colluded to sabotage the victory of APC and deny Imo people their true wish of electing Senator Hope Uzodinma as their governor.
National Coordinator of IDC, Comrade Jude Igbonagwam said the result announced by INEC was at variance with the votes cast by the people across the state and wondered why the national leadership of APC is treating the matter with kid gloves.
According to Comrade Igbonagwam, opinion polls before the election clearly put Senator Uzodinma in the lead while the actual voting also confirmed him as the preferred candidate "only for INEC to announce another person with bloated figures from three Local Governments"
He said both the APC and Senator Uzodinma must rise to reclaim the mandate freely given to him by Imo people as the only way of ensuring that justice is done.
The IDC coordinator described what happened at the March 9th governorship election in Imo State as a daylight robbery against APC and Senator Uzodinma, insisting that there was a grand "conspiracy against the popular candidate".
"Why is Imo like a grave yard after that declaration? The answer is simple. The man who actually won the election was not declared winner because some people want to see APC erased from the South East", he submitted.
Comrade Igbonagwam disclosed that his group had raised the alarm when the members noticed how figures generated from the poling units were being doctored against the APC and promptly demanded the cancellation of the election.
Said he, "When we saw what was happening, we raised the alarm but some people decided to ignore us. Now that INEC has declared the wrong candidate as the winner, the national leadership of APC must ensure that the mandate of Hope Uzodinma is restored".
The activist said APC must leverage on its strength as the ruling party to ensure that Imo people obtain justice by having the governor they voted for.
He was emphatic that the "sabotage and grand conspiracy against APC in Imo state were carefully orchestrated by those who want to subvert the will of the people and render the ruling party impotent in the State."
He pledged that the group will avail APC and Hope Uzodinma the documentary evidence "with which to overturn the charade that transpired in the name of election in Imo State."