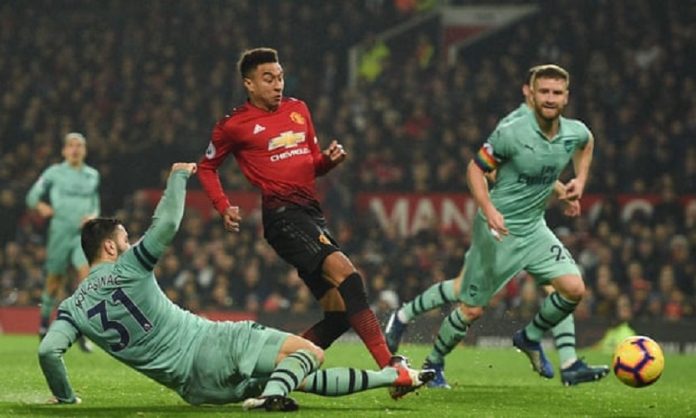 By the time it was all done, both sides could have been forgiven for thinking they had enough of the ball in an error-strewn match to be reflecting on a more profitable night. Yet it was Arsenal, undoubtedly, who ought to have been the more frustrated of the two sides. Twice they led but on each occasion they were quickly pegged back by a Manchester United team that have now taken three points from their last four games.
If nothing else, United's powers of recovery at least show the Premier League's eight-placed side cannot be accused of lacking fight to go with some of their other shortcomings. Not on this occasion, anyway. Ultimately, though, the goals from Anthony Martial and Jesse Lingard will not disperse the feeling that something is clearly wrong with José Mourinho's team.
Mourinho left out Paul Pogba and Romelu Lukaku from his starting line-up and they were fortunate, perhaps, that Arsenal could not defend with more substance after taking the lead via Shkodran Mustafi and then Alexandre Lacazette.
This was the first time in 32 years, encompassing 83 meetings, that this fixture has taken place without Sir Alex Ferguson or Arsène Wenger in one of the dugouts. Once the most eagerly anticipated fixture of the season, it was eighth against fourth at the start of play and in United's case it probably sums up their malaise that a club that once fielded, right to left, David Beckham, Roy Keane, Paul Scholes and Ryan Giggs as their midfield quartet now had a wing-back system with Diogo Dalot, Ander Herrera, Nemanja Matic and Matteo Darmian across the middle. Fred, the £52m forgotten man, was not even on the bench and it must be particularly disconcerting for Mourinho that David de Gea, usually such a consistently brilliant goalkeeper, is having such an erratic season.
De Gea will certainly not wish to see the replays of the opening goal, 26 minutes in, when Lucas Torreira swung over a corner from the left and Shkodran Mustafi powered in with a downward header. As it bounced off the turf, the ball flicked off De Gea's gloves and dropped behind him. Herrera might still have saved him by trying to head the ball away, rather than waiting for it to drop and kicking clear, but it was poor goalkeeping from De Gea and the buzz on the arm of the referee, Andre Marriner, was telling him the goal-line technology had gone in Arsenal's favour.
At that stage Mourinho might have heard the gloating chorus of "We want you to stay" from the corner housing Arsenal's supporters. Yet the away team held the lead for only four minutes, continuing their run of having never led at half-time in any league match this season.
For that, they can be aggrieved about the free-kick that led to the goal after an alleged foul on Martial and, secondly, that the linesman did not see that Herrera was marginally offside when Marcos Rojo took aim from 25 yards. Bernd Leno saved the shot but Herrera was quick to the rebound. His cutback went behind Jesse Lingard but rolled invitingly to Martial and, with nobody in an Arsenal shirt reacting swiftly enough, he turned in his eighth goal of the season.
Arsenal lost Rob Holding to a first-half injury and their misfortune on that front continued when Aaron Ramsey twisted his ankle and, hobbling badly, was unable to come back out for the second half. That meant Henrikh Mkhitaryan entering the game to face his former club, on a night when Mesut Özil was absent again from Unai Emery's team, and if there was one obvious criticism of the visitors it was that they were not creative enough with their passing in attacking positions.
The same could be said of United but they did move the ball more purposefully and perhaps there was also a case that Arsenal were short of energy because of their efforts against Tottenham to win the north London derby so thrillingly on Sunday. The visitors looked a little heavy-legged at times whereas United, despite their selection issues, had an extra day to prepare.
When Lukaku did enter the field, in the 63rd minute, it was because Martial had joined the list of players to be injured. Lacazette came on shortly afterwards for Arsenal and Rojo's mistake allowed the substitute to score within five minutes. Lacazette exchanged passes with Mkhitaryan and Rojo slid in, desperately trying to make up for losing the ball. His tackle turned the ball against Lacazette's foot and the ricochet dribbled fortuitously past De Gea.
The defending from both sides was far too generous and, within seconds of the restart, Sead Kolasinac got in a mix-up with Leno. Lingard nipped in and United were level again.
[Guardian UK]