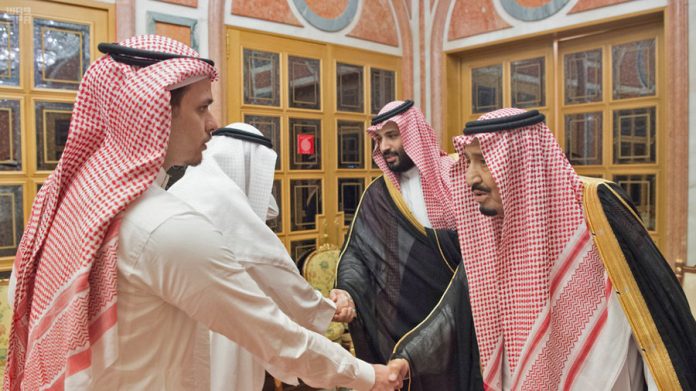 The eldest son of murdered Saudi journalist, Jamal Khashoggi, Salah, and his family have left the Gulf kingdom after the government lifted a travel ban, Human Rights Watch said on Thursday.
"Salah and his family are on a plane to (Washington) DC now,'' Sarah Whitson, the rights watchdog's executive director for the Middle East and North Africa, said, citing a family friend.
There was no immediate comment from Saudi officials, but Whitson said that they were apparently allowed to leave after a travel ban on Salah was lifted.
Salah, a dual U.S.-Saudi citizen, will be joined in the U.S. by his other siblings, who are based there, friends of the family said.
"Jamal's family needs a place to be together where they feel safe to mourn their beloved one," said Randa Slim, Director of Conflict Resolution at the Washington-based Middle East Institute, who knew the slain journalist personally.
"It is tragic that it took his death to get the Saudi authorities to grant them the freedom to travel," Slim said.
Jamal Khashoggi, a Washington Post contributor, was killed on Oct. 2 after a visit to the Saudi consulate in Istanbul to obtain paperwork before marrying his Turkish fiancee.
After first insisting Khashoggi left the consulate unharmed, Saudi authorities said he was killed in an argument that degenerated into a brawl.
Riyadh finally accepted on Thursday what Turkey had said virtually from the start — that he was killed in a premeditated hit.
"The lifting of this travel ban on Salah and his family is a huge sigh of relief," Whitson said.
"We should keep in mind there are hundreds, if not thousands, of people in Saudi Arabia, who face travel bans and are held in detention without any justice."
An official in Washington said U.S. Secretary of State, Mike Pompeo, had "raised the safety and security of the Khashoggi family members with the Saudi leadership", but declined to discuss the specifics of Salah's travel.
His departure comes after Saudi King Salman and Crown Prince Mohammed bin Salman met Salah and Khashoggi's brother Sahel at the royal palace in Riyadh on Tuesday.
Saudi state media said they offered their condolences to the family, but pictures of the prince shaking hands with Salah went viral on social media, where rights activists demanded the immediate lifting of the travel ban.
Saudi Arabia has sought to draw a line under the crisis over Khashoggi's murder, but has come under mounting pressure from sceptical world powers demanding answers and the whereabouts of his body.
U.S. President Donald Trump has derided the killing as "one of the worst cover-ups''in history.