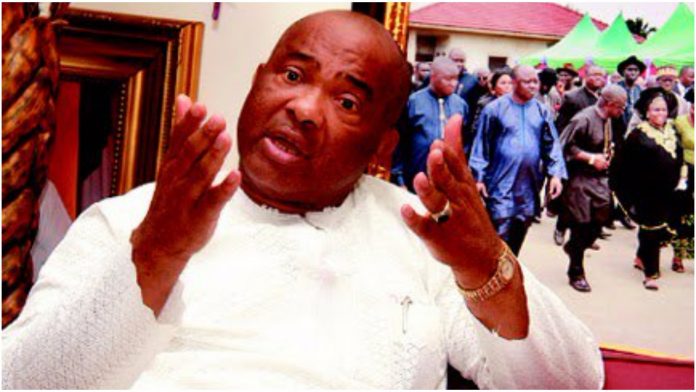 The Coordinator, South-East Caucus, National Committee of Buhari Support Group, Sen. Hope Uzodinma, says nothing will stop President Muhammadu Buhari from landslide victory in the South-East in 2019.
Uzodinma stated this at the inaugural meeting of the caucus in Abuja on Thursday.
He said that the caucus' target was to deliver not less than six million votes out of estimated eight million registered voters in the South-East.
He said the caucus would not rest on its oars in ensuring that the goal became a reality in view of what the region stood to gain if the target was achieved.
According to the coordinator, an overwhelming vote that will return Buhari as President in 2019 will guarantee the South-East an opportunity to produce the President in 2023.
According to him, it is an opportunity the region has for several years, clamoured for and should not be allowed to slip through its fingers.
"The national leadership has approved the operation of this caucus and we are going to go for it, bearing in mind that if we succeed we will smile very well in 2023.
"We are going to tag our operation, 'Operation 2023', meaning that by the time Mr President wins convincingly in the South-East, the name of the business will be 'Reciprocity'.
"This means, I have done for you, you are now to do for me," he said.
Uzodinma assured that plans were already in place to map out strategies that would enable the caucus to deliver on the mandate.
He added that the group would come up with a programme that would take the All Progressives Congress (APC) politics to various units in 2019 while reaching out to "booth owners''.
He said, "Every booth in South-East belongs to some people. They have leaders and if the message is given to them in a manner that they will understand, I am sure that we will succeed.
"There is no point claiming headship; the common denominator is what would make President Buhari, out of the eight million registered voters in the South-East, to get a minimum of six million votes.
"In doing that, we have to make sacrifices and call some people to order. We will do our beat.
"For me as a person, we will try to convince and those that will willingly follow will follow.''
Uzodinma hinted that plans were underway to organise a mega rally in the region, adding that the President had approved of it and promised to be present.
He stressed that management structures would be set up at the state, local government and ward as well as booth levels, for better delivery.
"Before some of us came into the party I was told you do not use money to do politics; now we are going to use money to do politics.
"We are going to do that knowing very well that the tradition and culture of our people requires that.
"We cannot begin to learn a new culture when election is a few days away. So we will start from the known to the unknown.
"We are going to work with the President and by the grace of God he will win in 2019.
"However, we have to establish criteria for knowing who a leader is when we get home.
"A leader is a man who wins his booth. A man who doesn't win his booth is a pensioner. So, we will identify the right type of people that will in the frontline, give us victory,'' he said.
The coordinator assured of his commitment to serving, not only to coordinate affairs but ensuring that the tools and logistics needed to make work easy would be provided.
He urged members of the caucus to designate functions appropriately, saying that it would be counter-productive to assign duty to people who would not deliver on mandate.
He said, "I am optimistic that working as a team with love and providing accommodation for each and everyone; we will have no reason not to succeed.
"It is your goodwill in your various states that will translate to the President's goodwill.
"We will take the risk and guarantee the president so that our people will vote for him and he will win, knowing very well that after 2023, it will be Alleluia all the way.''
The lawmaker assured of the party's readiness to reconcile differences among members, particularly those from the South-East.
He added that it was time to work for one Nigeria, rather than bearing grudges that would damage the party and Nigeria as a whole.
The National Chairman, Buhari Support Group, Mustapha Ahmed, said the group had been working assiduously to raise the support base of the president.
He said that the effort had yielded result, adding that the identified support groups across the country had increased from 198 to over 450.
"National Committee of Buhari Support Group started about three years ago and we were given the mandate to go round the 36 states plus the FCT.
"The essence was to identify and ascertain groups that worked for the emergence of President Muhammadu Buhari in the 2015 elections and so far the base has been increased,'' he said.
Inaugurating the caucus, Chairman, National Committee of Buhari Support Group Board of Trustees, Sen. Abu Ibrahim, said the group was established to coordinate various support groups to sell the ideals of the President.
According to him, this is to build a virile and democratic society that guarantees the rights of every citizen to fulfill his and or her potential.
Ibrahim, who was represented by the Special Assistant to the President on National Assembly Matters (Senate), Sen. Ita Enang, said various groups remained important channels of outreach between the government and the citizenry.
He said, "Many of the support groups that registered with the National Committee of Buhari Support Group existed before the 2015 election.
"They piloted the grassroots initiative via which the president's message of hope was delivered in the nooks and crannies of the country.
"As we inaugurate this caucus, I call on all and sundry to remain steadfast in the onerous task of nation-building and effort to fight crimes and reposition the country for sustained and inclusive growth.
"Let it remain our collective duty to restore this country's pride because we have no choice.
"This land belongs to all of us and we must all work tirelessly to make it better for our children and generations to come.
"The `nay sayers' need to know that we shall never give up this God-given right.''
Ibrahim said Buhari was aware of the inauguration of the caucus, adding that he looked forward to seeing it deliver not only votes but the much-needed cohesion necessary for national development.
He called on the caucus to work hard towards mobilising votes for the President in the region and entire country.
On recent coalition of some political parties, the chairman said it was not known to law.
He said it was not a coalition of proper officers of registered political parties but of people with various interests hiding under coalition.
He pointed out that more than half of the parties said to have been part of the coalition, had denied membership of the coalition and declared their support for Buhari.
Ibrahim assured that the party was ready to reconcile aggrieved members of the party where and when necessary.
"For some of the members of our party whom we saw their faces on that coalition day or who may have expressed opinion in that direction, we will not be hard on them.
"We will use conciliatory words because they have stakes in this party. We will not use any untoward word, we will go to them.
"Also, we will take whatever the opposition party says as advisory to  and as opinion which we will use to deepen what we need for Nigerians and deliver victory to the APC and President Buhari,'' he said.